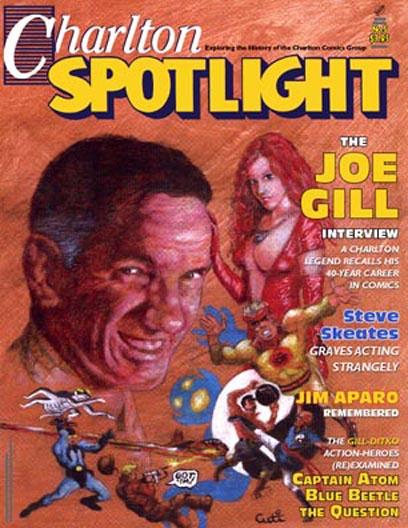 Well, it must be a new month, because my mail is full of neat magazines. Yesterday I talked about History Magazine and the other mag I got in Friday's mail was "Charlton Spotlight."
This magazine highlights one of the most interesting comic companies ever — Charlton Comics Group out of Derby, Conn.
Inside each issue, creators talk about their efforts in the company and what they saw while they were there.
The company's very business structure makes it interesting to me. You see the only reason the comic-side of the company ever existed was to keep the presses running while the company waited for its other, more profitable magazines to be ready for press.
With that sort of structure, Charlton Comics was known to most as "bottom of the barrel" work, but for others, it allowed them to shine. Why's that?
Because editorial control was positively minimal at Charlton. Writers and artists were essentially allowed to put to press what ever they created — and sometimes it resulted in some outstanding work.
Of course, just as often it produced some terrible comics.
Anyway, "Charlton Spotlight" is a real treat to read because the creators it features are often absolutely candid about the company, their co-workers and their own work because the Charlton Comics Group closed shop in the 1980s. With no bridges to worry about burning, creators are remarkably forthright about the company and its practices.
You don't get this kind of frankness in most retrospectives, and that's why I wanted to put my own spotlight on this magazine.
Get an issue for yourself at: www.CharltonSpotlight.com