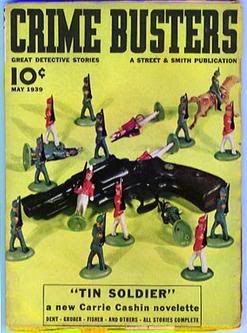 One minor pulp star was a female detective named Carrie Cashin.
In "The Dime Detectives," a history of pulp-fiction detectives by Ron Goulart, calls Cashin "The most successful lady eye of the pulps."
As written by Theodore Tinsley, "Carrie favored a system of detection that put much of the emphasis on physical fitness."
Goulart goes on to describe how most of her adventures went along at a break-neck pace — "in over three dozen breathless, impatient narratives in which nothing is allowed to stand in her way of headlong movement."
The above image shows a rarity for a 1938 cover — still photography rather than a painted image. Photo covers were rare back then, but became more popular with the arrival of television.
You can read a longer bio of Cashin here: http://www.thrillingdetective.com/cashin.html