"The Warrior Machine" was one of the later Masters of the Universe minicomics featured the story of the origins of Extendar and Dragstor, two super-powered beings built by Hordak, He-Man's second most important foe after Skeletor.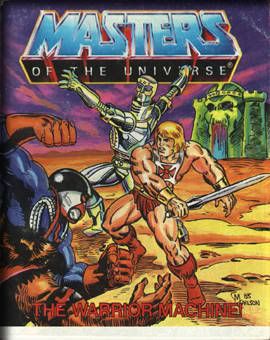 The minicomic features, of all things, lettering by Stan Sakai. While the lettering certainly is good, Sakai later became known for his work on the masterful comic "Usagi Yojimbo".
The comic is about Miyamoto Usagi, an anthropomorphic rabbit samurai, who travels around a feudal Japan populated by other anthropomorphic creatures. To the uninitiated, "Usagi" might sound wierd, but it is in fact one of the most compelling comics around thanks to its thoughtful stories and compassionate lead character. (Just to clarify: I buy the series through a collected trade paperback, rather than buying the individual comics).
The comic, which has been around for years now, is approaching it's 100th issue and is ideal for adults and kids too.
Allow me to make this clear though: "Usagi Yojimbo" is certainly not just a "kiddie" book, but it's a comic with serious stories that are told in just the right way to make them suitable and exciting for youngsters to read.
Find out more about the Usagi Yojimbo by visiting Stan Sakai's site dedicated to the comic: UsagiYojimbo.com.
Here's what He-Man.org has to say about "The Warrior Machine":
H
ordak abducts innocent townspeople for use with his new invention, creating Dragstor, half-man, half-machine. His purpose is to multiply the Horde's numbers through this manner, and when he abducts a royal knight that just happens to be named Extendar, He-Man is called to the scene … but he's too late, and Extendar is transformed into an evil extendable version of himself with the words, "I am Extendar, Tower of Power!" He-Man battles with Extendar until he makes him realize that he should fight the Horde, and not him. After crashing Dragstor, He-Man destroys the invention, so Hordak can never make any more of his "creations."
00076230
1986, Series 5.
Packaged with Dragstor and Extendar.