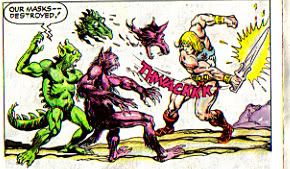 In the "Masters of the Universe" minicomic "Masks of Power," which was originally packaged with Fisto, He-Man and Fisto seek to recapture legendary masks that endow their wearers with "tremendous strength to use for good and evil."
As the duo tracks down some orcs who've swiped the masks, the heroes come across a mystic sword embedded in a crystal boulder.
Like King Arthur in the story of Excalibur, He-Man pulls the sword from the stone and knocks the masks right off the evil-doers heads.
What's so strange about this story is that artist Alfredo Alcala uses the same design for the mystic-Excalibur sword as the one used for He-Man's own Power Sword, which we see at the beginning of the adventure.
That's actually one of the neat things about the He-Man minicomics is that the artists stick to the Mattel styles as much as they can — even to the point of copying the same look for all their magic swords.
Additionally, it's neat that all the characters are beefy, musclebound hulks. There's no variation in them at all — just like the action figures.
Here's what the comic reviewers at He-Man.org say about the issue:
Two small demons steal the "Masks of Power" and become powerful. They try to get the Sword of Power, but He-Man and Fisto track them down and destroy the masks. An interesting side note: In this minicomic, He-Man uses a sword called the "Sword of the Ancients," and places the sword back in a stone at the end!
00074700
1984, Series 3.
Packaged with Battle Armor He-Man, Trap Jaw, and Fisto.