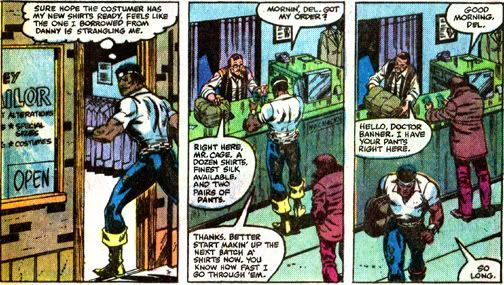 Like Edna Mole in "The Incredibles", it seems that the Marvel Universe has its own super-tailor.
This scene is from "Power Man & Iron Fist" No. 65 from 1980.
Not only does Luke Cage, better known as Power Man, use the place, but so does the alter ego of a certain gamma irradiated goliath!
See the whole sequence much better by clicking here: http://comicsonthebrain.com/columns/cotbart/supertailor.jpg
Dialogue from the scene:
Luke Cage: Sure hope the costumer has my new shirts ready, feels like the one I borrowed from Danny (Iron Fist) is strangling me.
Morning, Del … Got my order?
Del: Right here, Mr. Cage. A dozen shirts, finest silk available, and two pairs of pants.
Cage: Thanks. Better start makingh up the next batch a shirts now. You know how fast I go through them.
Customer: Good Morning, Del.
Del: Hello, Doctor Banner. I have your pants right here.
It certainly explains how the Hulk's purple pants always stayed on — it was all because of this tailor's masterful work.