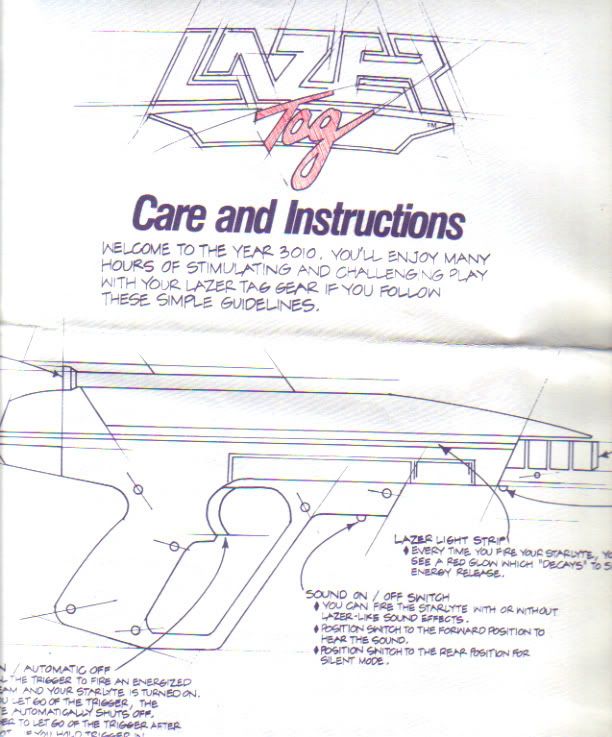 I just spent most of the day rummaging through a huge filing cabinet of "paper things" that I've saved over the years.
Among these " things" I had saved were old newspaper clippings, creative writing projects, ideas for stories, old college papers and posters — and part of my poster cache were these huge "blueprints" for Lazer Tag StarLyte guns and its associated equipment. The blueprints aren't the real technical schematics for the toys, but instead a usage guide for playing Lazer Tag.
To be frank, the blueprint is a great marketing idea. It just looks cool and it certainly is suitable for putting up as poster. I, being the packrat that I am, saved all of mine! (Egads, who' dare put tack holes in something this cool!)
And another thing, this poster is freaking huge, and I could only scan one "fold." When it comes down to it, I guess it really is poster-sized!
The unseen portion of the blueprint details how to strap on your StarSensor with your StarBelt, troubleshooting tips and game-play ideas. Each section of the poster is illustrated in the same blueprinty way, as were all of the Lazer Tag products built by Worlds of Wonder.
If you've never played Lazer Tag, just think of it as paintball, only with a TV remote.
As a teenager, I used to play it all the time with my friends. Way back in the day, I belonged to an outfit called the Corning Comic Federation, a comic-book fan club, which spent a lot of its time playing Lazer Tag as team called the Kri-Highlers.
It was great fun running all over the countryside zapping at people, hoping you were at just the right angle to avoid being hit.
One neat thing about the game was that as you got hit more and more often, the sensor that tracked each hit was always emitting a computerized heartbeat. The closer you were to your final hit, the faster the faster the heartbeat. On quiet, cool nights , that eerie heartbeat was your only companion as you fought for your life.
Truth be told, I still have practically all my Lazer Tag stuff. None of it fits, and most of it probably doesn't work any more. Right now, the box is packed away in my shed, waiting for the day to dawn when I need to go back out on the battlefield and zap some more people.
Some text from the blueprints:
Welcome to the Year 3010. You'll enjoy many hours of stimulating play with your Lazer Tag gear if you follow these simple guidelines.
The StarLyte gun: Your StarLyte energy unit has many important featues. Understanding how each of these features work will add to your enjoyment of Lazer Tag.
Lazer Light Strip: Every time you fire your StarLyte, you will see a red glow which "decays to simulate energy release.
(Includes instructions for firing wide and narrow beams, battery life, and stealth modes)
The StarBelt: Your Starbelt is designed to securely hold one StarSensor for active Lazer Tag play.
Team Stripes: Use the additional white Velcro Stripes to indicate team.
Holster: Keep your StarLyte in this holster to protect it!
The StarSensor: Your StarSensr is a state-of-the-art device which uses the latest Optronics ™ technology, specially designed for Lazer Tag.
Score-keeping lights: These lights are used to keep score during the game of Lazer Tag. … the scoring continues until, on the fifth tag, the red light stays on. This indicates you have one more tag until the game is over!
Sound Effects Speaker: While the StarSensor is on, you'll hear a computerized heartbeat sound which will accelerate with each tag to add excitement.