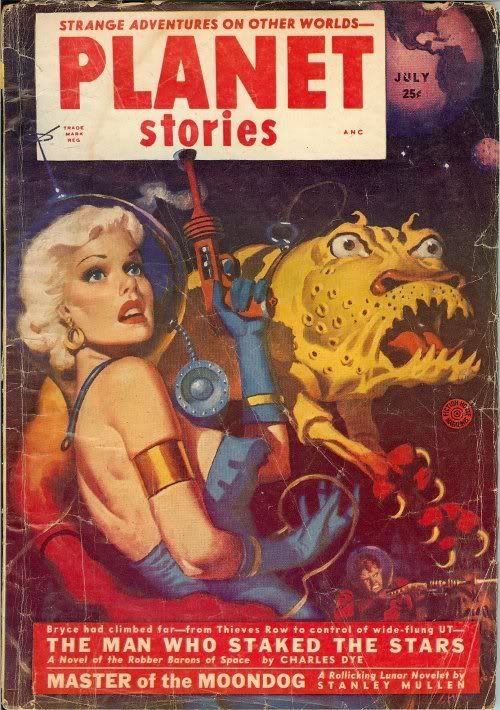 One thing I've noticed in a lot of pulp covers, from way back then through the 1980s and then into today is that illustrators sometimes find themselves creating images that are "stuck" in the time of their creation.
In this cover image from 1952, the blonde bombshell has a hairstyle that could only be one created in the 1950s.
While perfectly normal back then, today it seems out-of-date and almost resembles a wig rather than actual hair.
This image was originally shown at http://www.booksfromthecrypt.com/daily.htm, a site that offers new scans of old pulp covers five days a week.
According to their entry, this issue featured:
Cover by Allen Anderson for "Master of the Moondog" (novelet) by Stanley Mullen. Includes "The Man Who Stalked the Stars" (novel) by Charles Dye; "The Wealth of Echindul" (novelet) by Noel Loomis; "One Purple Hope!" by Henry Hasse; "Acid Bath" by Vaseleos Garson; "Beyond Lies the Wub" (1st story!) by Philip K. Dick; "Bride of the Dark One" by Florence V. Brown; "Frozen Hell" by John Jakes. Illustrated by Ed Emsler, Vestal, and Kelly Freas.