I remember the day, back in '87 when I got the most-wanted ticketsof the summer's best show.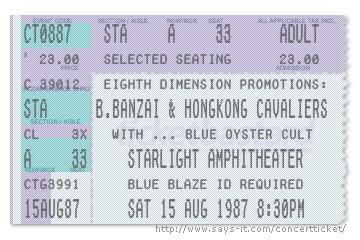 The tickets.
Screw Bruce Springstein. Forget Huey Lewis.
I had Buckaroo Banzai & The Hong Kong Cavalier tickets.
…
Wha–? You don't remember them? Surely you've heard of their film … "The Adventures of Buckaroo Banzai Across the 8th Dimension?"
Just a movie?!? How dare you insinuate …!!!
Ok, you're right. It was just a movie, but now one web site let's you build your own dream concert ticket. Check it out, it's kind of neat!