A friend and I at work were talking about comics and got talking about Alias Comics, an upstart company out of San Diego, after we found out how a local company, wowio.com, will be offering some of Alias' comics online for free.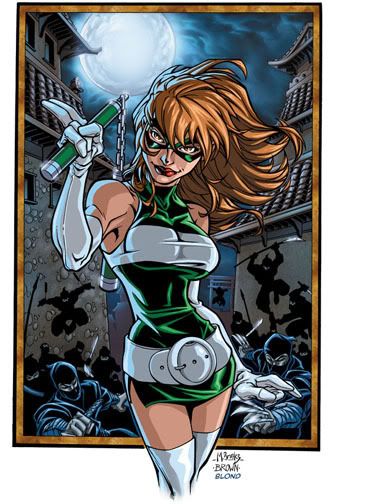 I've always been intrigued by Alias. They keep signing non-comics stars — such as "Baywatch" babe Traci Bingham — to be featured in their own comics. Such efforts have always bewildered me. Sure, kids back in the day might have been dying to read the goofy exploits of Dobie Gillis, but do they really care if "The 10th Muse" is modeled after Cindy Margolis. Is Margolis even all that popular anymore?
At the same time, the company is putting out a steady stream of non-"star vehicle" comics and these are what intrigued me.
So the other day, I picked up "Judo Girl" No.s 1 and 2. Both covers were intriguing. One is a nice piece of art by Joe Phillips that really shows off JG's cute costume. The other a wacky manga-style cover by Joey Mason. (Note: The image above isn't either cover.)
Like most comics, the cover illustrations aren't done by the same artist that draws the actual story. Inside was the work of Alex Julian. Julian's work is manga influenced with a bit of a cartoon/comic strip flair.
To be frank (and not meaning to be insulting) Alias is a minor league comic company, and Julian delivers pencils worthy of this level of publishing. He's got a shot at the majors if he brushes up on his skills a bit because he certainly has some talent. My only suggestions would be to brush up on his anatomy (or at least settle on a style for his anatomy) and work on his foreshortening.
The story, provided by Johnny Lowe and Darren G. Davis, is fast-paced and interesting. Judo Girl, a superhero from the 1960s, wakes from suspended animation in a new century. She encounters a changed culture and degraded morals with a certain unease. Despite her culture shock, she resumes her crimefighting career, but this time, she 's without the guidance of her brother, Judo Boy. Issue No. 2 ends with an almost surprise ending (sorry guys, I guessed it!), but I sure am eager to see what happens in issue No. 3.
Both comics were fun and bouncy, and I'd half bet that non-comic-reading tweens and teens would enjoy the series, and according to Alias's web site, that's just who the publisher is hoping will buy the book.
JUDO GIRL Vol 2. No. 1 (April 2006) and JUDO GIRL Vol 2. No. 2 (May 2006)
Alias Comics
Written by: Darren G. Davis & Johnny Lowe
Art by: Alex Julian
Covers by: Joe Phillips and Joey Mason
$3.50 each
Two Stars out of Four (Decent action and storyline)