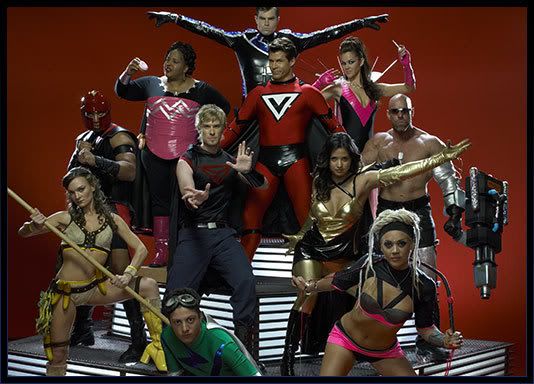 "Who Wants to Be a Superhero," a new reality show, is sure to bring channel surfers to a screeching halt at the Sci Fi Channel when it debuts tonight.
After all, where else can you see men in tights and women in hotpants on a Thursday night?
Officiated by none other than comic-book great Stan "The Man" Lee himself, the show pits 11 competitors against one another as they vie to be immortalized in a Lee-written comic and be the star of a Sci Fi Channel movie.
Real heroes: In each episode, the would-be heroes face challenges that reveal their true nature — and those who don't measure up to Stan Lee's idea of a real hero get tossed out.
The 11 competitors auditioned and compete in their own homemade costumes, and there are some good ones.
The two best are those created for Ty'Veculus (a modified Roman centurion suit) and Feedback (in what looks like a mockup of the X-Men's movie costumes).
While the men's costumes are intricate, the female competitors do pretty well themselves, albeit with about a yard less material. Monkey Woman wears the equivalent of a bikini, the whip-cracking Creature has super-short hotpants and Lemuria offers impressive cleavage.
Costumes aside, the group are an impressive-looking bunch. For the most part, the men are hunky and well toned and the women are sleek and media-saavy — except for Fat Momma, whose appearance you can probably easily imagine.
Character flaws: The heroes' first task seemed simple: Mill about a park, find a place to slip into costume and dash to the finish line. But there was also a secret goal, one that measured the hero's "trouble sense" — in this case, a wailing girl who can't find her mother. Despite their heroic bravado, it's surprising how many of the contestants didn't even notice. Shame, shame, heroes!
In the first episode, two contestants are eliminated for conduct unbecoming of a hero. It's that unique spin — being a good guy, rather than a backstabber — that seems to be the key to winning the competition and sets "Who Wants to Be a Superhero?" apart from other reality shows.
"Who Wants to be a Superhero" Web site.
"WHO WANTS TO BE A SUPERHERO?" Episode 1
Sci Fi Channel
9 p.m. Thursdays
Four Stars out of Four (Who wouldn't want to try this for a day?)
This article, written by me, originally appeared in The York Dispatch on Thursday, July 27, 2006.