In the world of superheroes, the sidekick always gets the short end of the stick.
He's always the hostage. He's always left behind. He's always stuck mopping up the hero's mess.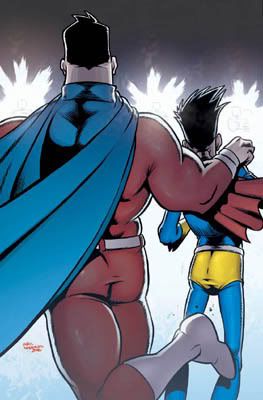 Well, in "Paul Jenkins' Sidekick" No. 1, Superior Boy, the sidekick to Mr. Excellent, is the star.
The adults-only comic, amusingly illustrated by Chris Moreno, features the fed-up, under-paid and embittered sidekick as he works to make a better world for himself.
Rather than continuing to endure the constant abuse by the dim-witted, over-focused Mr. Excellent, Superior Boy goes on a job junt — checking in with a variety of iconic-style heroes as he searches for the perfect mentor.
From Night Judge to Brother Commando to Justice Princess, he offers his services to each hero, hoping for better benefits and more respect. But things go from bad to worse when it turns out that he's hired by the whole lot of them, proving that "Madam Danger" can rear " her ugly head" in a whole new way.
While Jenkins' book certainly is funny, it isn't the kind of humor to bowl you over. Instead, it's two or three notches down from "The Tick," the best-ever superhero lampoon comic.
Moreno's art is something to marvel at though. His expressive art was enough to make me smile — especially as Mr. Excellent crumbles under Superior Boy's interrogation. Likewise, his sexy, bubbly Justice Princess and slutty Beverly Wensleydale are straight out of a "Batman: The Animated Series" storyboard.
Unfortunately, Moreno's art isn't so fantastic that you'll be heading to the comic shop for more, instead "Paul Jenkin's Sidekick" is something that's easy to ignore, just like most sidekicks.
PAUL JENKINS' SIDEKICK No. 1 (2006)
Image Comics/Desperado Publishing
Written by: Paul Jenkins
Art by: Chris Moreno
$3.50
ISBN 7-09853-00405-9-00111
Two Stars out of Four (As a parody, it falls a little flat, but the art is amusing)