As I've mentioned here and here, I long to someday write and publish my own comics. Things seem to be slowly picking up for me on this end. I'm still a long way off, mind you, but one glimmer of hope has emerged.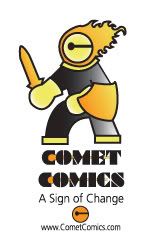 Right now, I'm in a class at the Pennsylvania College of Art & Design where I'm being taught Adobe Illustrator. By the time I'm done with it I won't be an expert or anything, but at the very I'll least be slightly skilled in the program.
Anyway, our first project was to design a logo and business card for ourselves, so I created the above logo for Comet Comics! It still needs a bit of tweaking (namely toning down the flames), but you get the idea.
The logo was based on a logo design for a swimsuit manufacturer that I found in a book of old Swiss and Austrian logos.
So what is Comet Comics? Well, after months of searching for a perfect name for a comic book company, I decided on Comet Comics. It has a nice aliteration. It's also easy to remember and spell, which will be important if I'm really going to target kids.
And yes, I've already reserved the Web site name (although I haven't activated it yet). That's what took all those months to find a perfect name — I had to make sure the web site was available too.
So, what do you think?