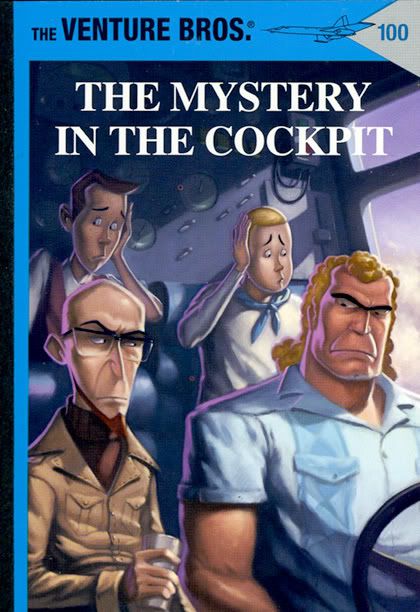 The move into my new house has been
going quite slowly. We keep having problems with the phone line (hence
the infrequent blogging) and we're actually kind of afraid of our
electric system w ith more than half the house is routed through one
breaker!
Anyway, the move has allowed me to sort through the piles and piles
of strange and bizarre stuff I've accumulated over the years.
One such neat-o thing is a press-release package I received from Cartoon Network's Adult Swim back when "The Venture Bros" first debuted.
Aside from a DVD chocked full of "VB" episodes, they also included a notebook, shown above, with a cover mocked up to look like an old Hardy Boys novel. It measures about the size of a novel and inside is lined paper with the Venture Bros. logo on the bottom.
I'm guessing that the "Mystery of the Cockpit" is of the Silent-But-Deadly variety!
Anyway, Season Two of "Venture Bros." is appearing on Adult Swim, and you can get the Season One DVD set at finer retailers everywhere!