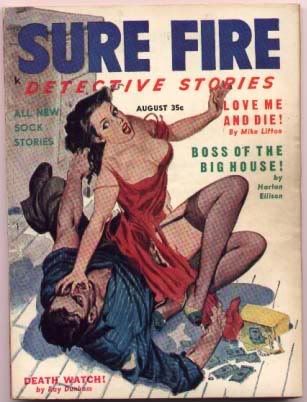 This 1957 issue of Sure-Fire Detective Stories features an early work by Harlan Ellison.
The prolific writer was a frequent contributor to the pulps beginning in 1949 (if my research is correct).
But Harlan isn't why I grabbed this scan, it's because this image is
another great sample of pulp cover illustration. It's got a little bit
of everything here …
Every headline has an exclamation point! It! Makes! Things! Exciting!
The illustration captures the heat of the moment.
The young woman is dressed pulp-appropriate with her sexy red dress and stockings.
The thug, what you can see him, looks like a dastardly ruffian.
The cash spilled out on the floor tells us a huge portion of the story — the thug was mugging the girl!
The issue is packed with other features, a rundown of which can be seen here.
An internet search of "Boss of the Big House" also finds this issue of Detective Comics with the same title from 1951.