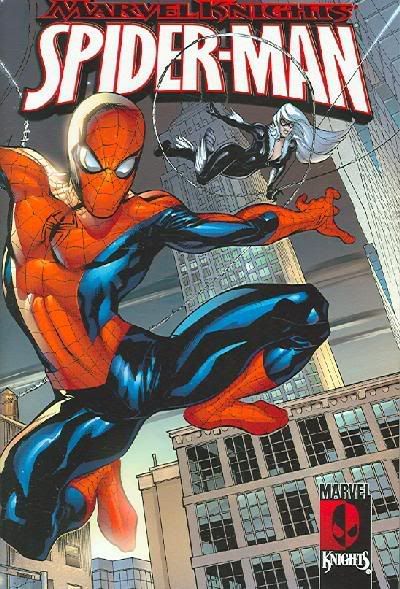 It happens to me all too
often. I buy a comic book and I forget it. Months later, it wiggles its
way to the top of my "to be read" pile.
Such is almost the case with "Marvel Knights Spider-Man" No. 1.
I say " almost" because I actually read it earlier this week — more
than two years after its publication instead of the usual "couple of
months."
It's a pretty good comic and it highlights one of the
inherent problems with a character who's been around for decades —
he's got a lot of history. And rather than be bogged down by that
history, writer Mark Millar has fun with it.
In the issue, Peter Parker helps his Aunt May
move from her house to an apartment in New York City. As they work on
the move, Peter and May reminisce about their past — from her botched
engagement to Doctor Octopus to the everyday perils he encountered
being a teen-age superhero.
At the same time, it appears that one of Spider-Man's
old foes has found out his secret identity and is stalking Peter and
May. The issue ends with Peter getting mysterious, threatening phone
calls, Uncle Ben's tombstone is wrecked and Aunt May is kidnapped.
How did it all end? Beats me, I've only got the first issue.
No matter, because as I read this issue, I was looking at it from the future. I knew that in Marvel Comic's Civil War, Spider-Man revealed his secret identity to the world — the big Marvel Comics event written this year by the very writer
who penned MK Spider-Man, a comic from 2004. In the 2004 comic,
everything that makes a superhero want to have a secret identity is
spelled out clearly — to protect your friends and family from reprisal.
In fact, several times over the years, his ID has
been compromised, and each time he's learned the same lesson: Keep your
secret a secret.
And with those in his mind, along with this recent
experience, why would he even consider revealing his identity to the
world? How could he even contemplate it? Only time will tell whether
"the big reveal" was a smart thing for Peter to do, but judging from
the past — the past that Civil War's own writer helped create — it
isn't the best path to a happy future.
Still, I can't wait to see how it unfolds.
Good luck, Spider-Man. You'll need it.
In case you're interested, here's another review of the comic book, back when it was first released.