I'm not one to follow casting news for Hollywood movies or even be mildly interested in the fantasy casts that Wizard often assembles in their magazine, but I just stumbled across an interesting poll at UltimateWonder.com, a Wonder Woman fan site.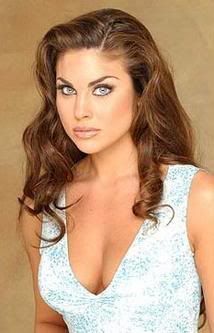 The poll offered dozens of suggestions for an actress who could play Wonder Woman. Low and behold, their top pick was Nadia Bjorlin, an actress I was actually familar with. You see Nadia played the character of Chloe on NBC's "Days of Our Lives" soap opera, a favorite program of my wife's.
Now as a guy, I can say that I've often found myself mesmerized by
the show — not because of the plot or anything, but because of the
"babe count" on the show. And my favorite babe was always Nadia Bjorlin.
So, I just want to say good luck Nadia! I'm eager to see you in a star-spangled bikini!
An article on Nadia as Wonder Woman can be found here.