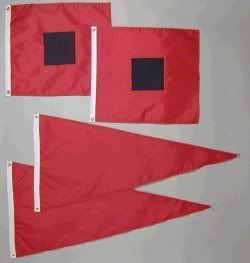 The tabletop role-playing game Mutants & Masterminds is a fun-looking game, and I've been slowly, ever so slowly, creating a character or two for some future session.
For the uninitiated, a role-playing game is like an advanced form of the "cops & robbers" game you used to play as kid. The main differences are that "who shot who" is determined by a roll of the dice and some rulebook consultation, and rather than running around your yard playing, you sit at a poker table and imagine the setting.
Anyway, here's the villain I've created, complete with all the fancy statistics you need to play him:
Category 4
"I'll knock the wind out of you, hero!"
PL10+ (157 pp )
Abilities: Str 12, Dex 18, Con 10, Int 15, Wis 10, Cha 10 (15 pp)
——————
Attack: +10 melee (+10 Save DC — Propeller Strike), +10 ranged (+10 Save DC Air Blast or +10 Save DC Suffocate) (20pp)
Defense: +6/+16 (+10 with power – Air shield)(12 pp)
Saves: Tou +5/+15 (+10 with power – Spinning), Fort +5(5 buy) , Ref +10 (6 buy, 4 ability), Will +2 (2 buy) (13pp)
——————-
Skills: +52 skills — Computers +4, Concentration +4, Craft: Mechanical +12, Craft: Electronics +8, Disable Device+ 4, Know: Technology +4, Know: Earth Science +4, Notice +12
(13pp)
Feats: Fast Overrun, Improved Overrun, Interpose, Move-By Attack(4pp)
——————–
Powers:
Device 20 (Hurricane Suit, powers listed below, Drawback: Handicap, Hands bound in costume, Uncommon, major -3, Drawback: Normal ID, 5-round suit-up time -3) (Device cost 80pp for 100dp)
——————–
Hurricane suit
Spinning 10 (Resist grapples and snares +10, Toughness +10, Power Feat: Radius Sight)
Alternate Power to Spinning: Shield 10 (Air Buffer)
Alternate Power to Spinning: Strike 10 (Propeller Strike)
(Spinning, Shield and Strike 23 dp)
Element Control – Air 20
Alternate Power to Element Control: Suffocate 10
Alternate Power to Element Control: Environmental Control 20 (Hurricane Winds – Hamper movement by 1/4)
(Element Control, Enviro Control and Suffocate 42 dp)
Flight 8 (16 dp)
Protection 5 (5 dp)
Blast 10 (Air Blast)
Alternate Power to Blast: Dazzle 10 (Hearing)
Alternate Power to Blast: Nullify 10 (One fire power)
(Blast, Dazzle and Nullify 22 dp)
——————–
Total points: 15+20+12+13+13+4+80=157
Device points: 23+42+16+5+22-8=100 (80pp)
——————–
Notes
Category 4's Hurricane Suit has no hands. In their place are propellers, so he can't do anything other than whack at things with his propellers.