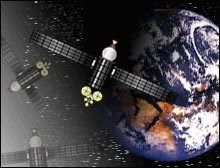 I've enjoyed my subscription to Sirius Satellite Radio for a few months now.
There's the all-80s station. There's the funky New Wave station. I get a kick out of their comedy stations too.
But as I drive around there's ocassional dead spots.
When I skirt too close to a building or ride along a ridge. It fades out.
When I'm at the bank, under the drive-thru awning, my satellite companion disappears.
For some, that would be annoying. It would be a fault in the service.
But not me. To tell you the truth, I'm kind of glad.
You see, even if it's just for a few minutes, the satellite can't find me. To Big Brother, hanging up there in the sky, I'm AWOL.
For just those few seconds, not even the satellite knows what I'm doing, and maybe, just maybe, no one else is watching either. It's just a slice of privacy. It's a nanosecond worth of me-time.
In this day of cell phones, instant messaging and pets with ID chips, that 's a rare thing, and it's nice to be able to disappear — even if it's just for a moment.