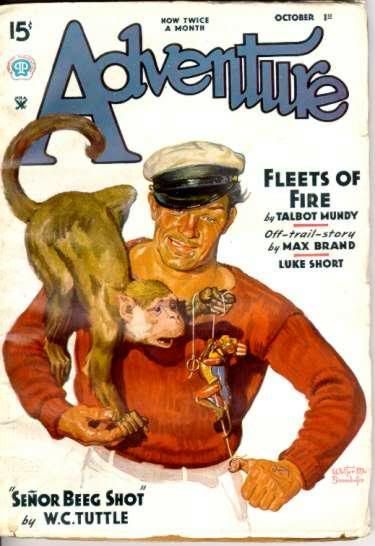 For the life of me, I can't figure out who this character is.
The character is definitely not named "Hashknife," as suggested in the first image, because W.C. Tuttle's Hashknife Hartley is a "cattle detective," and this Popeye/Bibbo-esque character just doesn't fit that bill.
Tuttle also contributed a story in the second image, but I can't find anything about that title.
And Hugh Pendexter seems to be only known for two things, Post-Frank L. Baum "Oz" novels and a group of short stories with titles like "The Fumbling Kingmaker" and "The Fumbling Rescuer."
"Fleets of Fire" the story by Talbot Mundy
seems to be an appropriate title for a story featuring this character,
but alas, I can't seem to dig up any information on it. (Though it
seems to have been collected into a book called "The Purple Pirate," but that still gives me no info on the character himself.)
I did however find info on Talbot Mundy himself, a fellow who lead an interesting life of his own!