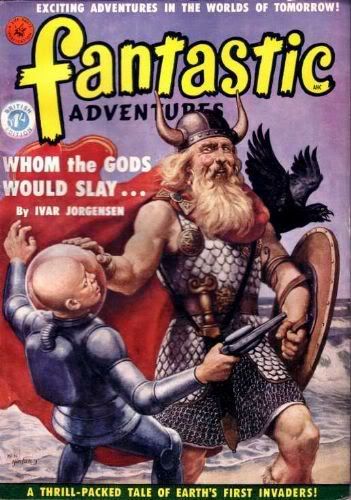 Today's image pits those classic antagonists against one another … aliens and vikings. You can't get better than that.
The story "Whom the Gods Would Slay" was written by Robert Silverberg under the pen name Ivar Jorgensen. With a name like that, I guess the author sided with the vikings!
I only mention this author because I own Silverberg's first novel, a kids sci-fi adventure from the 1950s called "Revolt on Alpha C." (I've actually mentioned it here in the forums, but I can't seem to locate that post.)
From "Revolt," his debut novel, Silverberg went on to write more than
900 short stories, novels and novelettes. He's best known for his
series called Majipoor.
You can read more about Silverberg at his web site, http://www.majipoor.com/