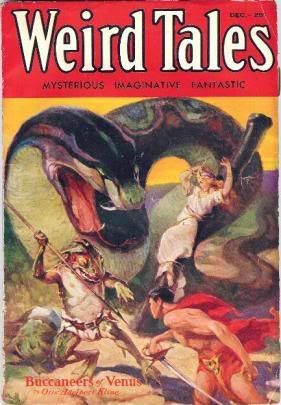 This issue of Weird Tales features the very first Conan story by Robert E. Howard. I'm guessing that this cover illustration is indeed Conan, but it certainly isn't the headstrong and musclebound adventurer we're used to seeing.
Looking at the image of the snake man and his giant viper, I had to wonder if we were seeing Thulsa Doom, the serpent wizard, in action. Both also appeared in the first Conan movie.
In truth, it illustrates "Buccaneers of Venus" a three-part trilogy called the "Port of Peril" by Otis Adelbert Kline. The "Port" series starred Robert Grandon, a man on Venus questing to get his wife back.
The cover is painted by J. Allen St. John.
For all I know, the "Ports of Peril" may be a great piece of work, but it was Conan who ascended to super stardom thanks to later novels, story collections, spinoffs, action figures, comic books, television shows, cartoons and movies.
In fact, the "Ports" creator might be the person responsible for the fact that you're so familiar with Conan because Kline served as Howard's literary agent, and he even served the role after Howard's suicide.
For an interesting "interview" with Robert E. Howard, including a few other Weird Tales covers, visit Conan.com's "Robert E. Howard — In His Own Words" page