Pulp magazines were known for their lurid, saucy nature, and the short stories collected in "Compliments of the Domino Lady" are perfect examples of how they did it.
The Domino Lady, a masked crime fighter who fights corruption in 1930s Los Angeles, is the secret identity of Ellen Patrick, a sexy blonde Berkeley grad bent on avenging the death of her father.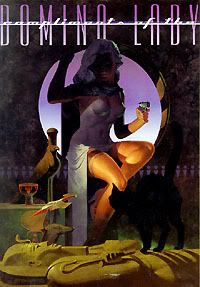 Her six stories, as told by writer Lars Anderson, come across as a bouncy romp mixed in with extreme melodrama and that weird dialogue that only someone like Bogart or Bacall could spout.
Without being overtly sexual, Anderson's descriptions are something to remember, since the Domino Lady spends part of each adventure in various stages of undress. Bernard A. Drew, who writes the book's introduction, sums it all up. Anderson, he says, could have a "great career crafting copy for Victoria's Secret catalogs."
Will Murray also offers an interesting story on tracking down the true identity of Lars Anderson.
As for the "mystery element" in each story, don't expect much. It seems that bothering the reader with a mystery wasn't Anderson's forte. Instead, by the beginning of each tale, Domino Lady had already figured out the mystery. The story for readers was how she brought the bad guys to justice.
Comic-great Jim Sternako provides double-page illustrations for each story that hint at the art-deco design style that was all the rage back then. His shadowy painted cover provides a frank example of how the Domino Lady looked as she slinked around her film-noire world.
Topping off Sternako's new work are original illustrations from the 1930s. The back cover even includes the Domino Lady's three sexy covers by pulp great Norman Saunders.

Bold Venture Press
$14.95, color, 96 pgs, available now
Writer: Lars Anderson
Artist: Sternako, Norman Saunders and unknown artists from "Mystery Adventure Magazine" and "Saucy Romantic Adventures"
*** (three out of four stars)
ISBN: 0-9712246-6-8