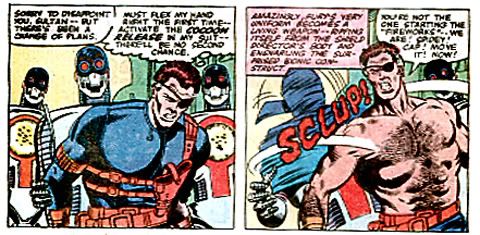 From Captain America No. 265 (1982)
Story: David Anthony Kraft
Art: Mike Zeck & John Beatty
DIALOGUE
Nick: Sorry to disappoint SULTAN — but there's been a change of plans.
Nick (thinking): Must flex my hand right the first time — activate the Cocoon Release in my suit — there'll be no second chance.
Narrator:
Amazingly,, Fury's very uniform becomes a living weapon — ripping
itself from the SHIELD director's body and ensnarling the surprised
bionic construct.
Nick: You're not one starting the "fireworks" — We are! Spidey! Cap! Move it! Now!