Since Nightcrawler is finally getting his shot at Marvel, my pick for that company would be…
JACK OF HEARTS
The
always troubled superhero has been a favorite of mine for years. I even
like some of the things they've done with him recently.
Anyway, I'd try to pick up with Bill Mantlo's take on the character while fusing his more recent developments: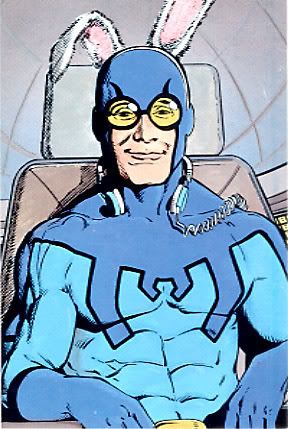 The
government knows Jack is dangerous. They want him locked up or killed
so Jack always tries to keep a low profile. The trouble is that he's
stuck in a suit that's gaudy and he's always easy to find. As such,
Jack's always on the move. His travels bring him into conflict with all
manner of villains and such.
The general tone would be downbeat paranoia with bursts of action.
He'd also be visiting space quite regularly.
I see it as a comic that provides a decided connectiveness in the Marvel U.
————
Over in the DC Universe …
BLUE BEETLE
I see this as a sort of team-up book. Every week, BB joins forces with another DCU hero to right wrongs.
The
aim of this book would be to replicate the Bronze Age team-up books
such as DC Comics Presents, Marvel Team-Up and Marvel Two-In-One.
As
for the format, I'd aim for a five issue story arc followed by two or
three Done-in-One stories, and then back into another story arc.
The
general goal here would be to use the book to introduce readers to the
many varied characters of the DC Universe that have languished in
recent years.