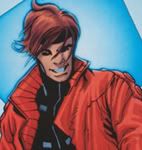 I guess the reason I dislike Gambit so much is that he was designed "to
be cool." Everything about him seems geared to be measure of how he was
a cool character. If Maxim was around at the time, they would have
written about this cool new comic character.
I like my heroes to be a misfit of some kind. The cool guys are the type that sit around and enjoy their reputation.
What was it that was designed to be "cool'?
His "cool" eyes.
His "cool" haircut.
His "cool" trenchcoat
His "cool"/sexy accent.
His "cool" weapon — playing cards.
His "cool" former job — an assassin.
His "cool" skills — an expert hand-to-hand combatant.
His "cool" good looks.
His "cool" powers.
Yuck to all of that.
Unlike
most other mutants, he had no "mutated" qualities. His eyes were easily
hidden. He had no "neat" deformities ala Nightcrawler. He had no
bizarre, detrimental side-effect to his power.
And all of that made him compelling to some, but not to me.